January Group Show 2022
For this first exhibition of 2022, the Cohle Gallery is delighted to present the work of three new artists joining the gallery: Amy Worrall, Ekaterina Popova, and Tania Marmolejo.
Each of the featured artists have different techniques and styles, each in keeping with the gallery's signature colorful and figurative exhibitions. This group show explores the genre of portraiture and self portraiture, both on canvas and through sculpture, with or without the human presence, as in the case of Ekaterina Popova's interiors.
Amy Worrall, born in 1989, is an English artist from Norwich (GB). Working primarily in ceramic (sculpture), Worrall creates caricatures of herself and her environment. She is fascinated by the stereotype of British women abroad (being one herself) and examines how this stereotype is self-perpetuated. She then creates "quasi" self portraits, full of joy, quirks and awkwardness. Through her sculptures, Worrall presents the viewer with a strange and skewed version of her own reality.

She draws on pop culture, digesting it and spitting it out in sculptural form. At first glance, the saturated colours and cold attitude of Worrall`s work are striking, yet deeper inspection reveals clever and critical undertones.
Ekaterina Popova is a Russian artist born in Vladimir in 1988, who lives and works in Philadelphia (USA). Following her move to the United States she discovered her love for painting and graduated from the University of  Kutztown, Pennsylvania in 2011.
From the offset, her work has centered around the exploration of interiors, initially as a reflection of her own upbringing in Russia, and subsequently branching out into the more general notion of "home" and what this means to her.
Popova's work has evolved over time, from a place of reflection and sentimentality to one of feeling grounded in her present environment. She regularly paints her own room but also visits other peoples homes or works from photographs.
Her paintings depict cluttered rooms and intimate objects, alluding to human presence without including the figure, in this way acting as another form of portraiture. She presents the subtle tones, lighting and atmosphere of each place to capture the emotion she associates with the space, oftentimes exaggerates the colour to create a dreamlike image.
Tania Marmolejo Andersson is a Swedish-Dominican American artist born in Santo Domingo, Dominican Republic (1975). Influenced by her Scandinavian and Caribbean heritage, she studied graphic design and illustration in Norway, returning later to the Dominican Republic to study fine art at the Altos de Chavón School of Design. In 1998, she was awarded the Bluhdorn Scholarship and continued her studies at Parsons The New School for Design in New York, graduating with a degree in Fine Art and Illustration in 2000.
She began her artistic career as an illustrator for the fashion and lifestyle sections of Obsidiana magazine (New York). During this time, she also designed characters and set backgrounds for MTV, PBS, Hyperion/Disney and Scholastic Books, among others, as part of the animation team at Data Motion Arts Studios, receiving various ASIFA and CINE awards. In 2005, she joined a group of artists and participated in her first group exhibitions, from which point onwards devoting herself entirely to her career as an artist.
Her work is influenced by German and Flemish Renaissance and Baroque art, as well as by German figurative and abstract expressionism. Her other influences include Scandinavian art, in particular the contemporary art scene with its emphasis on colour and minimalist subject matter, as well as Asian erotic paintings, lending to the on the conceptual and developmental phases of Marmolejo's current work.
Her work juxtaposes the intimate and personal with the monumental, creating large-scale paintings of ambiguous female facial expressions. She also explores issues of gender and identity as a Scandinavian-Caribbean female artist, using portraiture and physical expression as a means of communicating emotions to the viewer, stimulating a striking empathetic response.
Featured product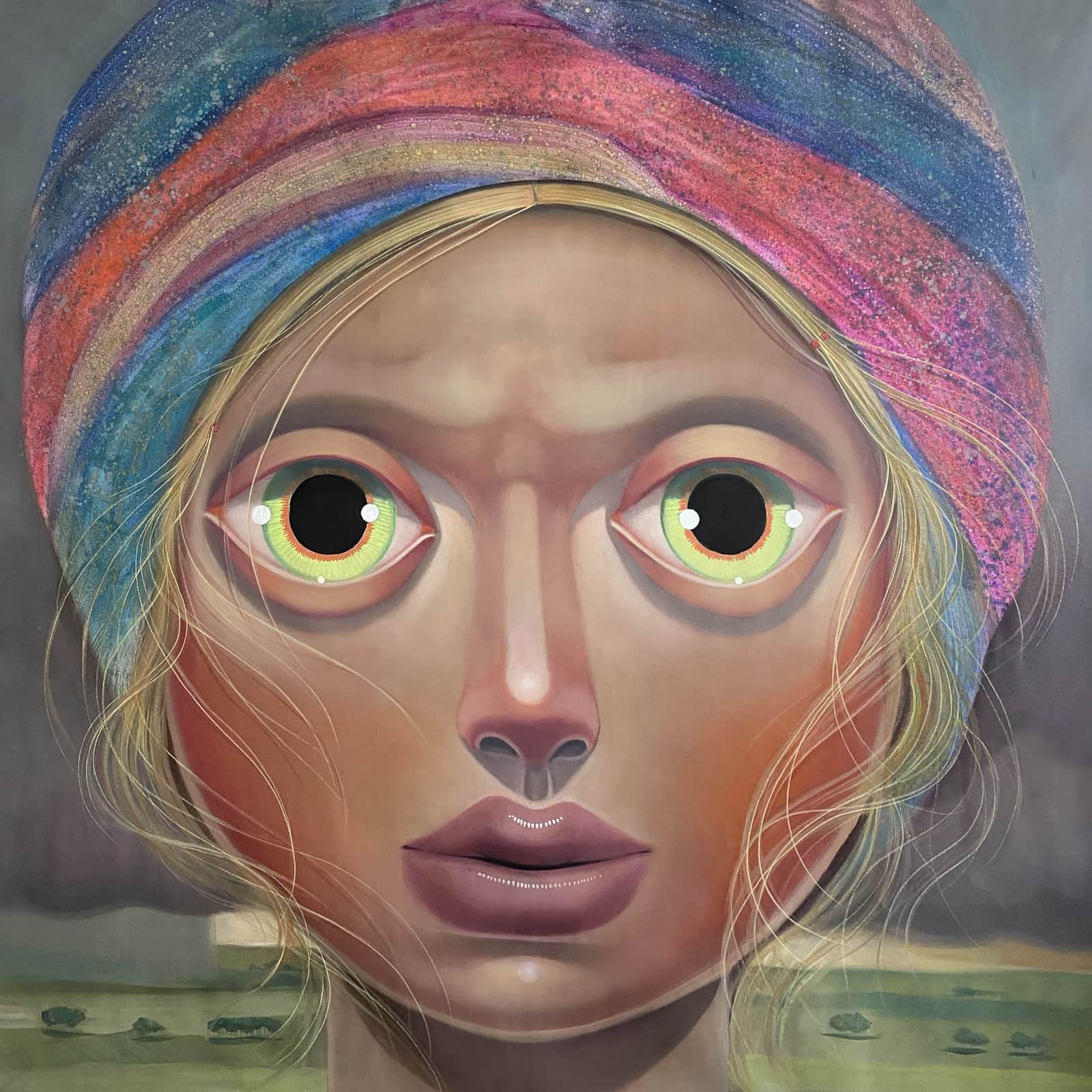 Inevitable acceptance
$0.00