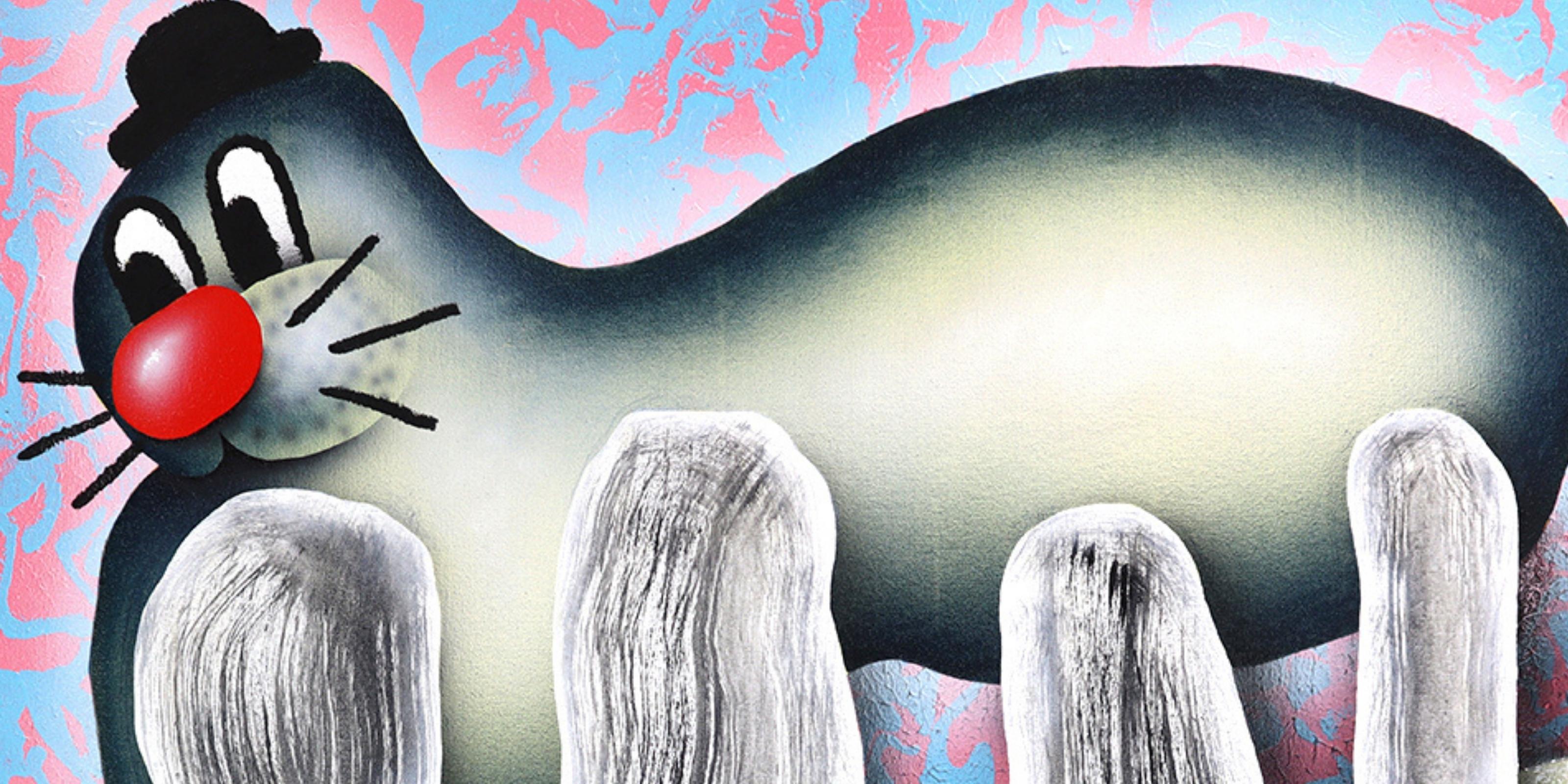 FEBRUARY GROUP SHOW 2022
This February the Cohle Gallery is delighted to announce the opening of a new group show, exhibiting a collection of selected works by three talented international artists; Adam Handler, BIJIJOO and Zac Yeates.

This vibrant show plunges the viewer into a colorful and whimsical alternate universe, full of imaginative characters who appear concrete yet dreamlike, familiar yet unknown, clear yet strangely distorted. Through their unique technique and style, each artist toys with the elements of form and color pushing the boundaries between reality and the imagination. They set a joyful sometimes disruptive tone, alluding to societal norms, feelings of isolation and the notion of beauty standards.
Adam Handler (1986) was born in Queens NY and raised in Long Island. As a child and teenager, he spent countless hours at his grandparents' workshop in New York City. Here his passion for art grew and, at the age of 18, he made the decision to develop his creative capabilities. He studied drawing in Italy and graduated from Purchase College in New York in 2008 with a specialization in art history.
Handler's faux-naive style and use of vivid colors are intended to convey emotion to the viewer, rather than to provoke reflection of the work itself. Through his portraits of female figures, he aims to reform the standards of beauty, returning to something more primitive. In his work, he prepares some compositions in advance but uses a great deal of improvisation during the painting process.
The paintings presented continue his exploration of childhood nostalgia as well as the evolution of his most beloved subjects; the ghost and the girl. More specifically, the paintings largely consist of cosmic and celestial backgrounds serving to blur the lines of reality, settling somewhere between nightmare and fairytale.
Adam Handler's work teeters between sweetness and sadness, alluding to a longing for yesterday or tomorrow. By using the cosmos as a backdrop for his subjects he confirms the uncertainties we all face; like that of the unknown universe. Some works contain phrases such as "Miss you" or "Sorry" , offering the viewer a vague reference point for the work's meaning but more importantly invites the viewer to draw their own interpretation of the piece based on their own life experiences.
Bijijoo (given name: Michael Todd Horne; nickname/preferred name: B) was born in Atlanta, Georgia (USA) in 1975. B currently resides in Portland, Oregon with his wife and daughter. B has been painting and drawing since childhood. He has experimented with figurative, abstract and conceptual work in a variety of media, including writing, music and video. B diverged from art practice to pursue technical studies in mathematics, physics, computer science and chemistry, culminating in a Ph.D. in biophysics in 2008. He then returned to painting by creating several series of surrealist works, including The Presidential Ham, Celebrity Still Life, and The Arthropod Companion. After pausing to remodel an old house and become a father, he began resetting his painting practice in 2018.

B's current work draws on his technical background in math, science and computer programming, as well as his young daughter's imagination and love of monsters. Bijijoo's paintings result from process-driven experimentation with painting media and automatic drawing, using traditional and digital techniques. He builds mixed media layers to amplify interplays of light, color, and texture. Images are conjured from chaos, in a process akin to divination. The forms that take shape trend toward human and animal: grotesque exaggerations of life, monstrous cartoons, vanitas. Narratives emerge through these interactions, reflecting struggle, celebration, and introspection. The results depict experiences, interactions, and movements frozen in a personal space and time.
Zac Roger Yeates was born and raised in the western lands of Australia. He has resided in Berlin since 2018 where he studied film production, receiving a diploma from the Catalyst Institute in 2020. Despite beginning his artistic career only recently, Yeates has already experienced great success through his work, exhibiting previously at the Cohle Gallery as well as in Lithuania, Germany and the Netherlands. In his artwork, Zac builds and explores atmospheric worlds that have a sense of familiarity, giving the viewer a feeling of uncanniness. He seeks to capture figures who seem out of place in our society but have a belonging to the world in the artwork.

Yeates looks to capture the faces of the figures who live in the world of the painting. One can notice the use of exaggerated hues along with the theme of distorted forms. Yeates has spoke about how is own experience of social construct of the body has shaped his process; "I was born with a cleft lip. It is an awakening, being born with a feature always seen as an imperfection. This is where my fascination began with imperfections and the subjects who possess them. My art is a way of communication and communication with the other, a way of understanding." In this way, Yeates seeks to challenge imperfections and beauty standards through the mediums of oil pastels, acrylics and spray paint. The pieces act as a means through which the audience can understand the normalization of disfigurements, introducing them to alternate realities where these imperfections are the norm and the standard of beauty.